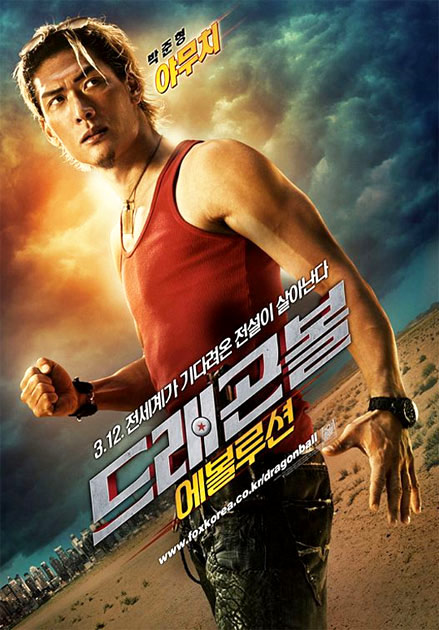 A new character poster for the live-action adaptation, "Dragonball: Evolution", has been unraveled. Part of the series of character posters, which earlier gave out Chow Yun Fat's Master Roshi, Justin Chatwin's Goku and Emmy Rossum's Bulma, this fresh one-sheet presents Joon Park's Yamcha.
In addition to the poster, a video interview of Justin Chatwin and Emmy Rossum talking about the manga adaptation has also been found. Sitting down with a Japanese TV, the two describe what they think about their individual characters. While Chatwin speaks about Goku and his inspiration to play this fighter, Rossum discusses on the relationship between Goku and Bulma.
"Dragonball Evolution" revolves around Goku's journey to collect all seven Dragonballs. Having had one of the balls, the young warrior must now gather around six others before Lord Piccolo gets his hands on them and destroys Earth. With the help from Master Roshi and Bulma, he embarks on a quest to save the Earth.
Adapted from Akira Toriyama's famous Japanese manga of the same name, the live-action film is directed and co-scripted by James Wong and produced by Stephen Chow. Aside from Justin Chatwin, Emmy Rossum, Chow Yun-Fat and Joon Park, the 20th Century Fox film also features among others James Marsters as Piccolo and Jamie Chung as Chi Chi. It will blast out in the big screen across the U.S. on April 8.
For video interview of Justin Chatwin and Emmy Rossum Click here.