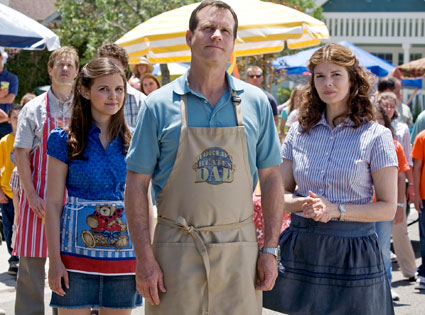 Yay! Network sources confirm that HBO's wonderful family drama Big Love has just been renewed for a fourth season. Currently in the midst of season three, the tale of a devout polygamist family living in the Salt Lake City suburbs is one of the network's marquee series.
Want to know what this pickup means for the fans? I've got the exclusive word from cocreators Will Scheffer and Mark V. Olsen...
Mark and Will gave us this statement about the good news:
We couldn't be happier. We love making this show and we love our collaboration with HBO. They've truly been maligned in the press this year. If you show me a better network to work with I'll eat our DVD collections.
Mark and I want to tell our fans we're still truly sorry for the long wait last year. We promise two things. As season three continues they'll forget about the time they waited and get caught up in our best season ever. And we also swear we won't make them wait as long next year. Mark and I insist on making a better show each year, so we won't ever stint on quality, but we're trying to be better faster.
Yay! Are you loving Big Love this season? Are you stoked about the pickup?
And don't forget to watch Big Love Sunday nights on HBO!