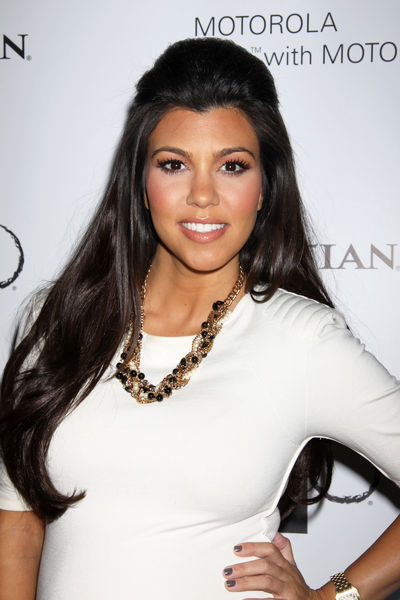 It might not be Christmas delivery for Kourtney Kardashian as her sisters Kim Kardashian and Khloe Kardashian have confirmed in an interview with Ryan Seacrest's KISS-FM on Thursday, December 10 that the very pregnant reality star is due to give birth "any minute." "Kourtney thought her water broke" a couple of days ago, Kim revealed.
Khloe quickly chimed in, "She's never experienced it; she has no idea. She was out at lunch - this is TMI - and some fluid came down her leg and she was like, 'My water broke!' She bbm'd me and I go, 'No, no, no, you will know. You're fine'." In further interview with Ryan, Kim and Khloe enthused about how pregnancy has changed Kourtney.
"She's changed so much, but I never thought before that Kourtney would have a baby, let alone be the first to have a baby," said Kim, before then adding she believes Kourtney is going to make "the most amazing" mother. In tone with Kim, Khloe enthused, "The baby is going to put everything in perspective for her."
When asked on when Kourtney and her baby's daddy Scott Disick plan to walk down the aisle now that they are about to become parents, the Kardashians' stepfather Bruce Jenner who also showed up for the radio interview said, "We're working on Scott. He's kind of a work in progress. He's been doing very well lately, and I'm proud o f him from that standpoint." To that question, Kim simply commented that Scott has "been trying really hard."
Back in early August this year, Kourtney Kardashian confirmed that she is pregnant with on-and-off boyfriend Scott Disick's baby. She, however, waited until October to publicly announce she is carrying a baby boy. She is initially expected to give birth on Christmas.