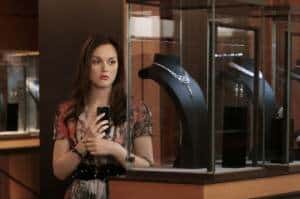 This week's episode has Chuck settling into his new do-gooder role, Dan rethinking his decision to ask Vanessa to move in, and Serena and Blair making a swiftly-broken pact to stay away from the now-spoken-for objects of their affection.
Misery Loves Company
Blair and Serena are wallowing in their misery over their Chuck/Nate/Dan sagas after B reads about Chuck's gift to Eva - a Cartier watch that (gasp!) some people are saying is worth more than any gift he ever bought Blair! They agree not to go to Chuck's charity benefit that night (New Chuck is so philanthropic!) and make a pact to stay away from the guys - and any enticing Internet gossip about them - in order to save their sanity.
At the loft, Vanessa seems to have settled into her role as nagging housewife quite nicely as she badgers Dan about his personal hygiene and lack of motivation since Milo left. Dan defends his right to wear the same shirt three days in a row and is irritated when Vanessa ambushes him with a family intervention. He announces he's headed to Nate's place and storms out, only "Nate" ends up looking suspiciously like Serena.
To Read More Click Here.