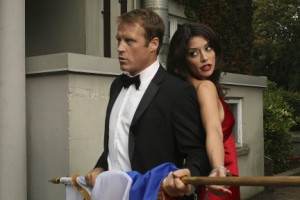 First, she played fiesty FBI agent Emma Barnes on Human Target. Now, she's journalist Liza Hearn on Covert Affairs. In this exclusive interview, actress Emmanuelle Vaugier dished about her time on Human Target and what might be next for her on Covert Affairs.
How did you get involved with Human Target?
I was called in to meet and read for the producers and director, and found out a couple of days later that I had been offered the role of Emma Barnes.
One of the most impressive moments of your first episode (Embassy Row) was the sequence where Emma and Chance are handcuffed together. What was that like to film? How difficult was it?
To Read More ClicK Here.