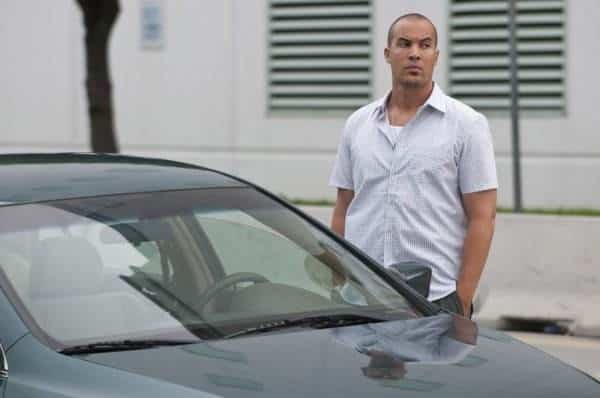 Jesse Porter is pissed. John Barrett is not a very nice guy and he's brought an army. Vaughn is probably a little cranky too. All of these guys are looking for Michael Westen, and not to give him a hug. What a way to cap the first half of a great fourth season of Burn Notice!
In case you weren't one of the people (myself included) who were watching USA's handy marathon of the season to date today, here's the quick 411: Michael has his hands on Simon's (Garret Dillahunt) Bible, which decodes something important. It's the key to bringing down the very bad people that both Vaughn (Robert Wisdom) and Jesse (Coby Bell) have been looking for over the last few years. These very bad people have come to Miami in the person of John Barrett (Robert Patrick), who wants the Bible to take down Vaughn and ostensibly continue his global reign of mayhem. And did I mention that Jesse discovered it was Michael who burned him, and seems ready to fulfill his early-season vow to make whomever burned him pay, friend or not? Even Michael's mom, Maddie (Emmy nominee Sharon Gless), is upset with him. It's probably the worst time to be Michael Westen. We know that he's going to make it through this alive (unless Jeffrey Donovan decides to retire from acting a la Amanda Bynes), but that doesn't mean his life can't be totally wrecked...again.
To Read More Click Here.