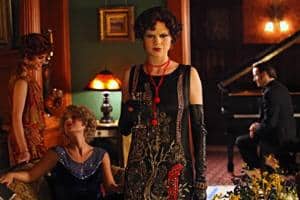 True Blood starts its second half with a bang, or several. Maryann hosts an orgy, Jason and Sarah Newlin take their relationship to the next level, Bill has dirty sex with someone other than Sookie, and the Lukenator lets us know that having gay vampire sex is the only sin God won't forgive.
Eric enjoys a late night drink from a Fangbanger, but sucking the blood of the willing just doesn't have the same thrill it used to have. His cocktail is interrupted by the arrival of the mysterious woman from the end of the last episode, only she's not so mysterious. She's Lorena, Bill's maker, who Eric called back into town to woo him away from Sookie so Eric can have her all for his own.
It's a shame Eric has to go to such extraordinary lengths to get Sookie, because I imagine there are plenty of eager Fangbangers out there who would prefer him over Bill any day of the week.
The mystery woman has flashbacks to the 1920s when she and Bill killed a rich couple and then had sex in the blood-soaked sheets as their victims died beside them. It's not quite as gross as Bill and Sookie in the dirt, but more disgusting than Jason having sex in garbage.
Sookie's cockamamie plan to infiltrate the Fellowship of the Sun to find Godric begins, but she's accompanied by Isabel's human boyfriend Hugo. The two humans have a lot to talk about, and Sookie is shocked to hear that Hugo wants Isabel to turn him so that he won't grow old and die and she'll fall out of love with him. Sookie says she never considered that, and oddly, neither had I. But I'm pretty sure I do not like the idea of Sookie Stackhouse becoming a vampire.
To Read More Click Here