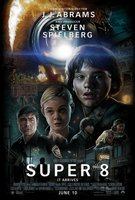 Since "Super 8" is categorized as a secret project of J.J. Abrams, little has been known about the movie including who is involved in the project. However, in an interview with Wired during recent San Diego Comic Con, it has been revealed that "Cloverfield" monster designer Neville Page is tapped to design "the range, the gamut" for the upcoming sci-fi.
He then shared that he is extracting the idea of the destructive alien from Abrams' mind and the said creature will show up from a bumping cargo seen in the teaser trailer. "When that door blows open, it's the ultimate reveal," he teased.
To Read More Click Here.