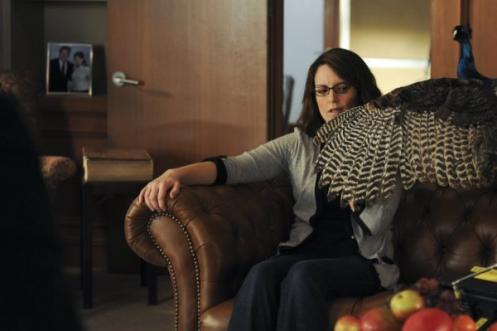 30 Rock is always hit or miss, although when it hits, it does so harder than any comedy on TV. The problem with recent episodes is that hits have been fewer and farther between.
"Argus" had plenty of funny quotes, just because the dialogue and one-liners delivered by these characters never cease to be funny, but the show has hit a real creative dry spell.
Let's sum it up bluntly. Having Jack bond with a peacock, drink with a peacock, confide in a peacock, believe the peacock to be the reincarnation of Don Geiss, etc., was not funny.
Maybe a little funny for a few minutes, eliciting a smile or two. But no real laughs, and fewer smiles the longer it went. There wasn't even a great conclusion, it just sort of ended.
Tremendous as Alec Baldwin has been over four seasons, the episodes during which Jack is particularly off the wall or is consumed by some ridiculous idea just don't work as well.
To Read More Click Here.