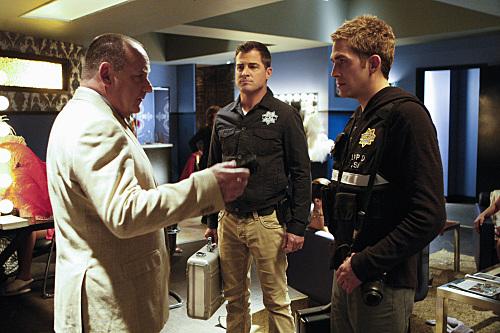 Nick: Open bottle of Vodka, a used glass. What do you think; one last drink?
Greg Sanders: One last laugh.
This week's episode, "Take My Life, Please!," had all the markings of a pretty standard installment of CSI: Two cases going at the same time, twists in each, and of course, lots of guessing until the end.
But don't confuse 'standard' with bad or boring. After 10 years, 'standard episodes' on CSI still have writing well above some of the other shows out there (I am looking at you FlashForward).
Allow me to start with a Fanboy moment and say Tim Conaway still looks great and still has great comic timing. For example, when he is asked what he did after Knuckles and Nash broke up 30 years ago he makes an awesome reference to his real life career when he says: 'I was on two hit TV Sshows'. (For those of you who are not long-time comedy geeks like me. He was on 'The Steve Allen Show' from 1956 to 1960 followed by 'The Carol Burnett Show' from 1967 to 1978).
To Read More Click Here.