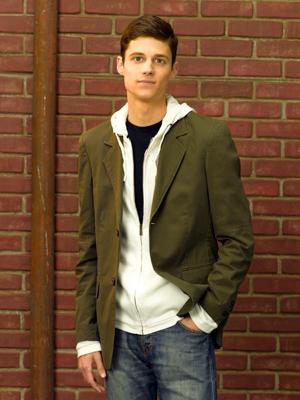 You cannot date your sister's... IMPREGNATOR!!!
- George
On "New York, New York," people started talking more and owning up to their secrets. Perhaps most notably, Adrian told everyone she is pregnant. And by everyone, I mean EVERYONE. There's no better way to set the record straight than to make a hallway announcement in the middle of a high school.
Poor Ben, though, he still hadn't told his girlfriend Amy the news. This whole scenario is what makes this show so hard to believe. In what I like to call The Real Life of the American Teenager, a girl announcing her pregnancy would've been texted, Tweeted, Facebook posted, emailed... Hell, even written in the sky by the time she even got to her next class.
Somehow, though, Amy, who is still in New York, has yet to catch wind of this gossip bomb. She's across the country, not in a hut in the middle of the dessert with no Internet or cell connection. To maximize dramatic effect (and because Bobby Baccala said so) Ben flies to New York to tell Amy face-to-face. Oh, he also flew on his family's private jet. Who knew the sausage business was so lucrative?
To Read More Click Here.