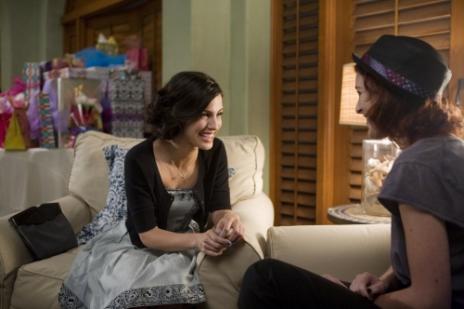 Welcome back from winter break, 90210 fans: Where did you spend the holidays?
We're just kidding... but it was a little weird to have the students returning from Las Vegas, St. Bart's and other winter vacations, wasn't it? That aside, the episode "Rats & Heroes" set the stage nicely for the second half of season two.
Let's start with the storyline that has received all the buzz leading up to this return installment: Gia and Adrianna. This sudden closeness feels forced, but at least the kiss between the gals had an ulterior motive:
Adrianna wanted to help Gia make her ex jealous. We can buy that. It's far more preferable than having these two actually develop feelings for one another so quickly, although we all know that's where this is going.
Still, can we take our readers' pulse: what did you all think about this sudden bond? Would Adrianna really have called Gia in such a panic because she had a sip of rum? Drugs, not alcohol, was always her problem.
To Read More Click Here