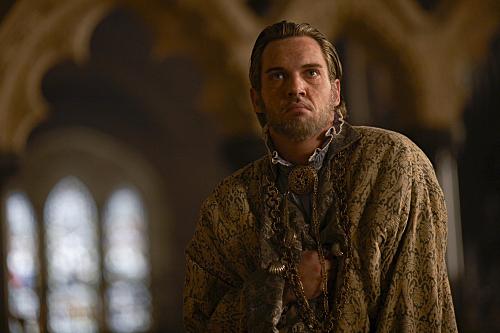 Well, it's over.
I am anxious to hear what all of you thought about this final episode of The Tudors. I have to say I enjoyed it despite my deep and profound disappointment over not seeing Surrey get hanged, drawn, and quartered. What a letdown! People who watch this show have become accustomed to seeing some serious violence and I don't think the last episode was any exception.
Couldn't they have left us with one little gory execution to cling to?
This was the episode of the Dead and Angry Baby Mamas. The wives who had given children to King Henry showed up throughout this episode as visions, sort of like a combination between "Six Feet Under" and "Scrooged." They all came to berate Henry for being such a sucky father to their various spawn. Here are their beefs in a nutshell:
* Katherine of Aragon: Our daughter should be married off by now with her own kids and I'm still your real wife, so says Jesus!
* Anne Boleyn: My daughter is ten times smarter than you and, by the way, I am still innocent. Oh, and so is Catherine Howard.
* Jane Seymour: Sorry, darling, but our kid is going to die young and it's probably for the best because you've made his life totally suck from the moment he was born.
To Read More Click Here.