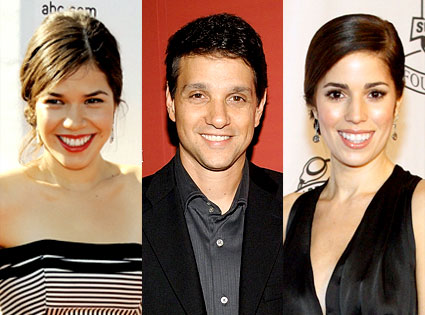 Let's talk about sex ba-by. Let's talk about Hilda and Ar-chie. That's exactly what Karate Kid Ralph Macchio did this morning when he gave us a wake-up call to dish on his next two episodes on Ugly Betty airing March 12 and March 19.
In case you haven't been keeping up, Ralph guest-starred as councilman Archie Rodriguez earlier in the season in some very flirty, very high-chemistry scenes with Ana Ortiz's character, Betty's big sis Hilda Suarez, that left viewers (including us!) dying to have the pair hook up.
So doooo they do the deed? Here's what Ralph just spilled...
"The March 12 episode is all about the family trying to put these two people together," Ralph tells us. "The hookup happens in the second episode I'm in on March 19. The family feels Hilda has gone down the bad-boy road and come up empty too many times, and here is someone with a good job who obviously likes her. I'm showing up for haircuts twice a week, which is the backstory that you get. But she's just not sure; there's something missing."
So do we get to actually see some tonsil hockey onscreen? "Well, you know the title of the second episode is 'The Sex Issue.' It's surprising for both of them where it goes." Umm...to the bedroom?!? "It might. It might go into the salon; it could go anywhere," he says. "Things get revealed about the councilman's past, too. There's another side to him that conjures up excitement and passion in her."
One thing is for sure: The door is open for this storyline to continue, but it won't include writing Ortiz's pregnancy into the show, according to Ralph. "It's interesting shooting around a pregnancy," he adds. "Can you hold that bowl of popcorn right there? Can you lift your arm up a little bit here? The show runners tossed around the idea of writing in the pregnancy but decided it was too difficult. It finishes shooting around the third week of April."