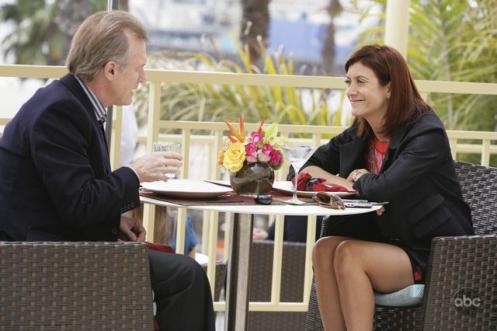 After an episode last week that felt a little over-dramatic and hokey at times, Private Practice returned to form last night. Also returning? The Captain. Addison's dad.
She was clearly shaken by the unwelcome arrival of her father, but Cooper was in even more dire straits after being arrested when he refuses to cooperate in a case.
Meanwhile, Pete fought to keep a terminally ill patient alive long enough for him to meet his new daughter. Addison, Pete and Cooper all really shined last night.
If you missed "Sins of the Father," follow the link for our recap. Now, a look at the major developments that took place and why we felt they worked so well (or didn't) ...
Aye, Captain: Addison is a rich trust fund brat who blames her problems on the man who provided said trust fund. Eh, we'll buy it. Money can't solve everything.
On the flip side, she's just doing what her father did and admitting fault. She certainly has a right to be mad, from what it sounds like she went through as a kid.
Still, blaming her cheating on Derek on her dad? That's a bit of a stretch. Then saying he's not family, because the people she works with are. Yikes, that's harsh.
It also paints her kiss with Sam last week in a new light. Maybe she does consider him family. In any case, this Captain story is far from over, and we're intrigued.
To Read More Click Here.