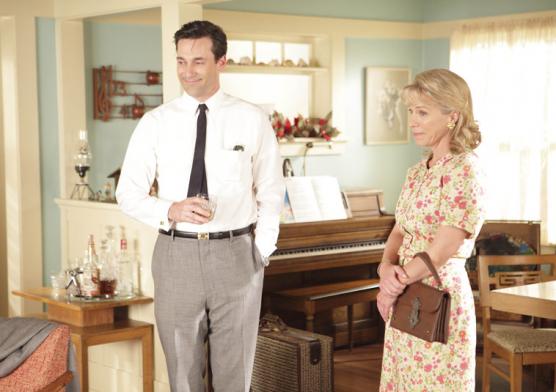 I love when Mad Men does this. Even though it is a show filled with an exorbitant amount of great characters, sometimes it is nice when they have an hour focusing on just a couple. Due to New Year's, this week in "The Good News" we left the day-to-day of Sterling Cooper Draper Pryce and focused on Don, Joan and Lane.
Don Draper, this week taking on his real identity of Dick Whitman, every so often heads out to California to visit with the real Donald Draper's wife, Anna. Instead of drowning into an abyss of depression, like he did at Christmas, this man seems to enjoy himself so much when he goes out to the west coast. Whether it is his extreme satisfaction with the relationship he has with Anna, or just the pleasant SoCal weather, he has come out from under the rock he was laying under last week.
Don't get me wrong, he's still completely troubled, but he wasn't afraid to smile this week. Of course it was easy to smile when Anna's college-aged niece was being so young and beautiful. Just like last week, Dick was not afraid to roll the dice with this young girl. Like the nurse down the hall, though, she shot him down. This time the girl meant business though as it was not just a "no." It was a "no, and you're fake ex-wife has cancer."
To Read More Click Here.