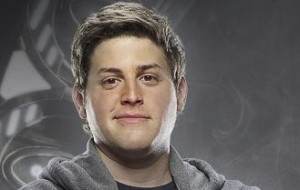 Stargate Universe's producers were tasked with a somewhat unorthodox mission: reach outside of the Stargate franchise's existing fan-base and bring in viewers who had never watched a single episode of 'Gate. In order to accomplish that, the SGU story had to quickly get these viewers up to speed and make them feel at home in the Stargate universe. Enter David Blue's Eli. The character of Eli, a brainy gamer who unknowingly cracks an alien code embedded in an MMO and is drafted into the Stargate program, is not only a vital member of the SGU story, he is also the voice for Stargate newbies within the SGU universe. Chances are, if you have a question Eli is going to ask it; if you are puzzled by the audacity of the Stargate rules, Eli will emote your frustration. However, don't dismiss Blue's Eli as purely a utility character. Eli is also often the moral compass of the show, and the first to break the cold logical hyperbole of Dr. Rush by twanging the human core of SGU's storylines.
I had the chance to speak with David Blue a few weeks ago about where Stargate: Universe is going, and where Eli is headed along the way.
To Read More Click Here.