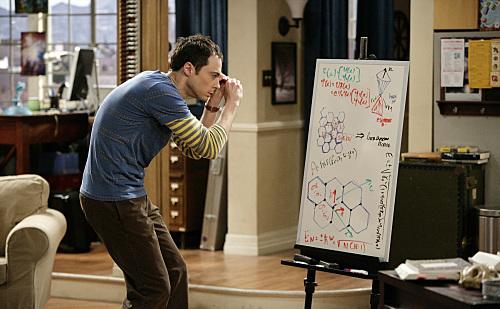 In what felt like a shortened episode of The Big Bang Theory, there was really only one main story line in this week's episode: Sheldon snapping when he can't solve a physics problem. So if "The Einstein Approximation" was a half hour of pure Sheldon antics, how could we complain?
Well, we're critics, that's how! Although we love Sheldon and he is 100% why we watch this show, it's not the Sheldon show for a reason. In order to keep the show somewhat believable so that we buy into the fact Leonard and crew put up with Sheldon, you can't possibly give him the entire thirty minutes. Even Penny was ready to break up with Leonard over it!
Don't get us wrong, Sheldon was unbelievably hilarious. The swimming around the ball pit escaping from Leonard screaming "bazinga" was amazing both during the episode and after the credit roll. Possibly one of the funniest Big Bang moments even.
However, we can't help but complain that some of this episode was out of even Sheldon's character, sleep deprived or not. While the idea of him emulating Einstein's mundane job was believable, would a man as nutty as him not be able to touch other peoples' coins, but have no problem busing their food? And really, we're expected to beleive a genius like Sheldon never thought particles could move in a wave? Pretty sure that was high school physics. Okay, we'll admit that last one was a bit of a silly complaint for a sitcom.
To Read More Click Here