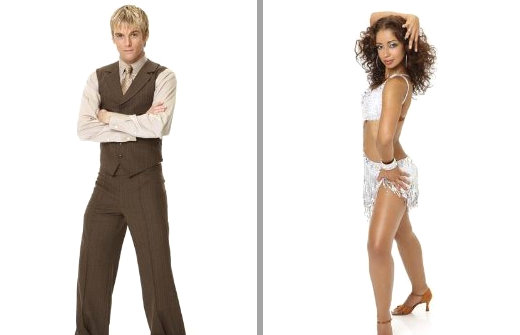 Head judge Len Goodman was absent in the second week of "Dancing with the Stars" this season but the execs brought in Baz Luhrmann aka the director of musical hit movie "Moulin Rogue!". The substitution resulted in generous amount of 9s being drawn out from under the table. Aaron Carter and Mya each scored the triple 9 in their respective performances.
The first couple to take the stage on Monday, September 28 was Joanna Krupa and Derek Hough who did the Jive. Carrie immediately made a comment about Joanna's huge hair and her lack in footwork department. Bruno said they need to be exact with Jive and that Joanna lost rhythm sometime. Baz said they have to show more of the relationship because they got great chemistry. Score: 6-7-7, a total 20 out of 30.
Next, Natalie Coughlin and Alec Mazo did the Quickstep and the swimmer was told to loosen up a bit because it was obvious when she is tense, her shoulder goes up. Baz praised the second half of the dance where Natalie can blend with the music well. Carrie said Natalie is one of her favorites. Score: 7-7-7, a total of 21 out of 30.
To Read More Click Here.