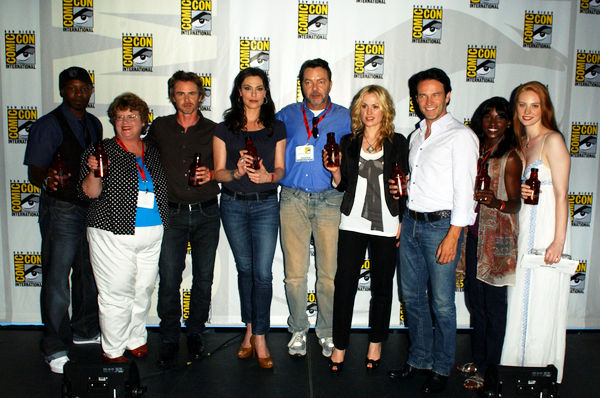 "True Blood" had a room full of people during its presentation at San Diego Comic-Con International Saturday, July 25. Led by a new trailer, the panel squirted out a lot of interesting tidbits from the second season which is airing on HBO every Sundays. There to provide the details were creator Alan Ball, book writer Charlaine Harris and most of the main cast except for Ryan Kwanten who had another work commitment.
The Comic Con trailer ran well over a minute, giving previews to scenes which are yet to air on TV. Maryann finally revealed her true self, taking off her horned-creature mask who attacked Sookie at the season premiere. Jason has the tendency to betray the Fellowship of the Sun and is in to a whole lot of trouble. Viewers are also given a good look at Evan Rachel Wood as a queen vampire at the end of the trailer, feasting on someone and saying "Wanna join me?".
The panel itself is packed with stories such as the love triangle between Sookie, Bill and Eric. Ball had a word about this, saying "I'm not sure that Bill is just going to roll over and let it happen. I think he's going to fight his hardest and maybe not be quite as polite as he has been." Speaking from Eric's perspective, Alexander Skarsgard commented, "Eric's been around for a very long time. He's kind of over humanity, then she comes along and there's something different about her. For the first time in a long time, he's curious."
Ball also announced that the fake blood drink TruBlood will be available for purchase starting September 10, only it won't taste like blood. He described it as "a very tasty blood orange soda" that has "all natural ingredients." Pre-orders are available at HBO.com.
There was also a question whether viewers will see half-human-half-vampire babies like "Twilight" series offer. Ball, who had to be walked through the reference, squared it out "Oh, no. In our show, our vampires are either full-out vampires or they're not vampires."
On what will come should HBO renew the show for another season, Ball said "It's so much fun to work on this show that I'm just excited that there is a season three. Even though I don't think it's been officially announced, it will be very soon. I'm looking forward to seeing werewolves."