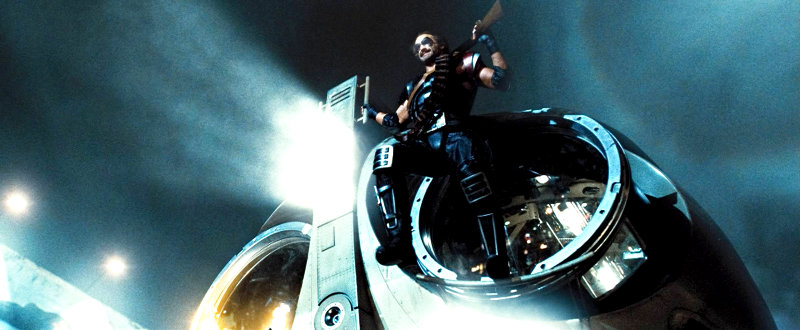 Warner Bros. Pictures have released a series of sneak peeks into their forthcoming action film, "Watchmen", via four clips and a featurette. The four clips are each outed by IGN, MSN, IESB and MySpace, while the featurette comes in courtesy of Access Hollywood.
The IGN clip is entitled "Rooftop Rescue" and shows the scene where Nite Owl II and Silk Spectre II aboard the Nite Owl's airship to rescue people trapped in burning building. Meanwhile, the MSN clip, "Warning You First", displays the footage in which Daniel Dreiberg warns Adrian Veidt of Rorschach's action.
The IESB clip, on the other hand, presents Daniel who still dons his Nite Owl's suit is involved in an argument with Rorschach. Still, in the end, Rorschach comes to an understanding that Daniel is his good friend. The last clip, coming from MySpace, gives away the time Nite Owl II and The Comedian dealing with an angry crowd. While The Comedian seems to be ready for some action, Nite Owl II yells out that there's no need for violence.
In addition to the four clips, a featurette called "Scenes From Watchmen" highlights on Carla Gugino and Malin Akerman's characters and the relationship between the mother and daughter. Through the nearly two-minute video, it is explained that Sally Jupiter holds onto the memory of the good old times, while her daughter, Laurie Juspeczyk, tries to understand her mother.
Adapted from Alan Moore and Dave Gibbons' comic book series of the same title, "Watchmen" follows superhero-turned-vigilante Rorschach as he investigates the murder of his former colleague and discovers much more than a simple homicide case. Written by David Hayter and Alex Tse, it features the likes of Jeffrey Dean Morgan, Billy Crudup, Matthew Goode, Jackie Earle Haley and Patrick Wilson among others. It will hit the U.S. big screen on March 6.