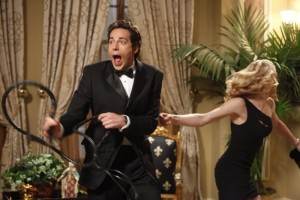 Did you miss last week's "new lovers"-tastic episode of Chuck? Check out a recap here.
"Chuck vs. the Role Models" opens with Morgan speaking over a Chuck and Sarah version of the title sequence to Hart to Hart. Cut to an eye opening Lost-style. It's Morgan's eye. It's the middle of the night, but he awakes and heads to the kitchen. Seeing the refrigerator door open, he begins to greet Chuck, but it is Sarah who rises from behind the door, clad in just a negligee. Not noticing her sleepwear, Sarah asks Morgan if he'd like any orange juice. Morgan, unable to unlock his stare at her breasts, mentions the benefit of "Vitamin C, C, C, C, C's" before accepting the "jug" of OJ. The next morning, Morgan is eating breakfast when Chuck bounds into the kitchen with a huge grin. Morgan knows Chuck is happy "having tons and tons of sex," but he wishes Chuck would keep it to himself. Chuck apologizes, but he's just so happy with his life right now. "Yeah, because you're dating a leggy Valkyrie with an aversion to clothing," Morgan retorts. Chuck informs his buddy that he'll be seeing a lot more of Sarah as he's going to ask her to move in with them. Morgan points out that Sarah is standing behind Chuck, and leaves. Chuck, the surprise now ruined, asks Sarah if she wants to move in. "Why would we want to do that?" Sarah asks. When Chuck points out that is what normal couples do when they love each other, Sarah responds that they are not a normal couple, so why would the live like one. They have to get to work, so Sarah goes to the couch, lifts a cushion, and removes one of a plethora of guns and other weapons. Chuck, obviously surprised there are guns in his couch, asks Sarah why she has hidden guns in his couch. She asks him if he knows the Thirty-Foot Rule. When Chuck replies in the negative, Sarah informs him that a spy should never be more than thirty feet from a weapon. The couple argue the merits of the Rule, but decide to solve the problem later.
To Read More Click Here.