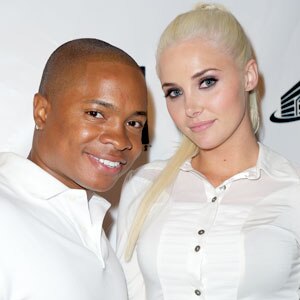 Karissa Shannon, former Hugh Hefner girlfriend, has - shocker! - a sex tape.
And will it go public? Read on...
Steven Hirsch of adult video company Vivid claims to have sex tape footage of Shannon with her boyfriend, Smallville actor Sam Jones III.
"We were really impressed at how amazingly hot it was," Hirsch said. "We're hoping we can make a deal quickly on this as we're already hearing from Karissa's fans who want to know if we will be releasing her tape."
Hirsch maintains he received the tape from a third party, who he has refused to identify.
Shannon confirms that she and Jones have shot naughty videos but insists she doesn't want to see any of it released. "There's stuff between me and Sam [from when] I was at the Mansion still with Hef," she tells us. "I was 18 years old and I was dating Sam. It's really embarrassing. I'm just really trying to move forward and this thing is just really setting me back."
In a joint statement released earlier today, Jones and Shannon said Vivid was given the tape "without our knowledge or permission. Our lawyers are on it and will be taking care of the situation."