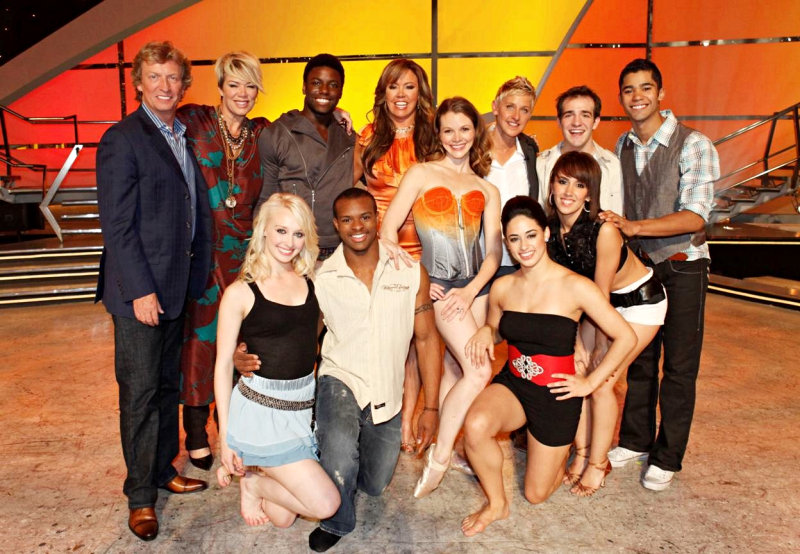 On Wednesday, July 22, "So You Think You Can Dance" was visited by a special guest judge who knows little of the dancing techniques but adds a fresh perspective in the art of performing. Ellen DeGeneres, who has been raving about her appearance on the dance show through her Twitter, sat on the judging panel to give comments on the performances of the Top 8.
After reaching the Top 10 stage, the remaining contestants are paired at random. But they got the chance to also dance in the large group and display their solo piece after the pair dancing. The show opener on Wednesday saw former contestant Travis Wall choreographing the group dance which Nigel Lythgoe described as "Very Lady GaGa".
The first couple of the night was Evan Kasprzak and Janette Manrara who danced Jazz. The judges wanted more from Evan, reasoning that he was not rough and 'oomph' enough to balance his partner. Ellen praised the complex and full-bodied choreography while Mia Michaels dropped the bomb that Janette was her favorite this season.
Brandon Bryant got paired up with Jeanine Mason for Waltz. Nigel quickly said that the pair wasn't able to lift up the performance but Ellen disagreed and said that it was a fantastic performance. Mary Murphy was on Ellen's side, saying it was done "respectably".
Ade Obayomi was lucky enough to be paired with Melissa Sandvig again. They danced the Cha Cha Cha which Ellen thought they nailed. Nigel had one correction for Melissa, suggesting her to keep her legs from going out so that more of her hip action can be seen. Mia went a little harsh on Ade, saying it was his worst performance in the season because he wasn't "down and dirty".
To Read More Click here.