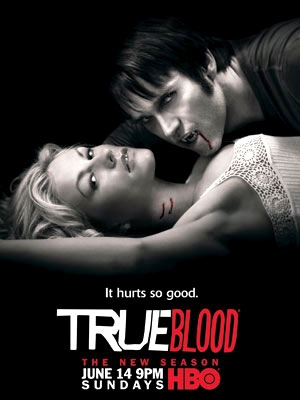 Things are shaping up for the second season of "True Blood" that premieres on June 14. A brand new poster, posted via EW's Ausiello Files is unveiled to show Sookie and Bill playing "it hurts so good".
Several new stills are also coming out to show the other characters such as Sookie's brother Jason shirtless while working, Tara and Maryann, Sam in the water as well as the new vampire, Jessica. In addition, two more TV spots have been released on top of the first one. Both of the spots still use Bob Dylan's new song "Beyond Here Lies Nothin'", but the third TV spot also delivers a few lines from the episodes, including when new waitress, played by Ashley Jones, whispers to Sam's ear "I know what you are".
The first episode of the season is titled "Nothing But the Blood" and EW has posted the official synopsis. "A shocking murder outside Merlotte's has Bon Temps reeling. Meanwhile, Sookie's relationship with Bill is tested when she learns about Jessica, and of his involvement in her uncle's death. Sam recalls a shape-shifting encounter he had with Maryann as a 17-year-old. Jason gets a sudden windfall that allows him to pay for a leadership retreat with the Fellowship of the Sun. Two adversaries find themselves sharing a mysterious dungeon and, possibly, the same fate."
The next two episodes' synopsis, which are titled "Keep This Party Going" and "Scratches", are available to read on EW.