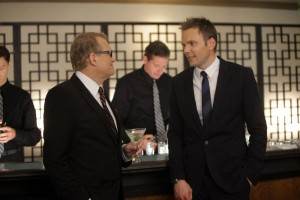 In the Accounting for Lawyers episode of COMMUNITY, Jeff runs into his former colleague Alan and gets sucked right back into the non-caring lawyer scene, and since the study group is all about caring, they try to drag him back out.
Rob Corddry oozes slimy charm as Alan. I quit doing blow, not being rad. Plus, they get Jon Stewart jokes in-nice! Love Britta's truly terrible impersonation. Drew Carey's line readings as Ted the partner are much funnier than the hole in his hand. Thank you, Jeff. You make me want to be a worse man. Jeff slips into the façade of his old life perfectly-probably because in so many ways he hasn't left. He may not technically be a lawyer, but he sure walks and talks like one. It's a sea of Wingers. The whole place reeks of moral ambiguity. How easily corruptible are Britta, Pierce, and Shirley? Love Jeff's legal advice to them, telling Britta she's not a whore, Pierce that hunting people is bad, and Shirley why you don't sue strippers: She's a stripper. Life sued her and she lost.
To Read More Click Here.