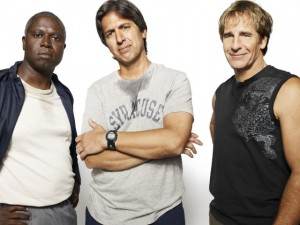 Let me go on record now by saying that I am a 26 yr old African American male and Men of a Certain Age slightly scared me of what life could be one day. But to be honest, I felt that the show touched on points that I am actually experiencing now in life.
In short, the show is great.
The Set Up
The first of the guys we meet is Joe (Ray Romano), who wakes up in a hotel room at exactly 6:00 am to recite his morning wake up call and guess the temperature for the day. Apparently he has been staying there for a while. He looks into the mirror in his bathroom with a blank, knowing stare that says, "Who am I and how did I get here?" What a tone setter.
Owen (Andre Braugher) awakes to one of his sons playing Hulk with Guns and the kid shoots a ball to Owen's head. Owen's wife, Melissa (Lisa Gay Hamilton), walks in with their newborn baby, mentioning that Owen could have slept better if he had of used his breathing treatment mask. Owen doesn't like the thing and doesn't plan on wearing it. Outside, men work on renovating their house, which has been in process for months. Owen just wants to use his own bathroom instead of the kids for once.
Terry (Scott Bakula) awakes to a horn blaring outside and his latest conquest hurriedly putting on her clothes. She reminds him that he's supposed to go hiking with Owen and Joe.
To Read More Click Here.