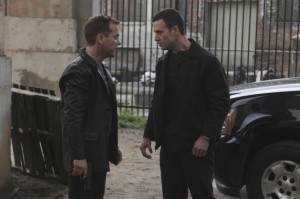 In this hour, Jack continues to hunt down anyone responsible for Renee Walker's murder, while Logan and his underlings continue their hunt for Jack.
As the hour opens, Ortiz is brought in to identify the body of his former fiancee, CTU traitor Dana Walsh. When one of the on-scene cops asks, "Did you know this woman?" he hesitates tellingly before answering. It's hard to even imagine the mix of emotions he's feeling after the hellish 20-hour roller coaster he's been on, but at least it will all be over soon.
Meanwhile, Jack is high-tailing it over to the "workspace" of an old buddy, Jim Ricker (Michael Madsen), who first and foremost wants to know what the heck is going on, what with Jack's name all over the police scanners saying he killed some woman.
After a brief explanation that he accepts at face value, Ricker helps Jack identify a man seen talking with Walsh in a video found on the disk Jack took from her. And, surprise surprise, it's another Russian "diplomat" - which, this season, seems to be just another word for terrorist.
With hard proof of Russian involvement in President Hassan's murder finally in hand, Jack places a call to newspaper reporter (and former Hassan girlfriend) Meredith Reed, asking her to meet with him. And his simple argument proves convincing: "Miss Reed, yesterday I helped clear your name. Now I need you to help clear mine."
To Read More Click Here.