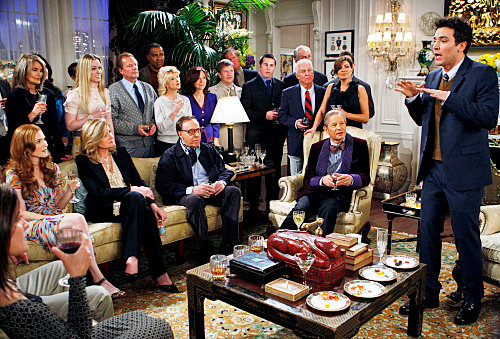 Without Robin, the now-four-person gang decides to crash a snooty party featuring such guests as Arianna Huffington, Peter Bogdanovich, and New York Times crossword editor Will Shortz (all appearing as themselves). Ted, of course, feels right at home among these opera-going, wine-tasting, poetry-reciting intellectuals. Meanwhile, Barney wants to go to a robot wrestling sporting event, and Marshall and Lily start to talk about extending their family.
Lily, Marshall and Ted are hanging at MacLaren's when Barney walks in, excited to announce that he has five front-row tickets to "Robots vs. Wrestlers." Ted and Marshall geek out - even though they don't know quite what "Robots vs. Wrestlers" entails, Ted surmises that "it's some sort of sporting event that pits robots against wrestlers," which just sounds awesome. Lily wants to know who the fifth ticket is for. Barney admits it's for Robin - even though she's not hanging out with them anymore, there's no way she can turn down something like Robots vs. Wrestlers.
Except...she does. When Lily calls Robin to invite her, Robin says that she has a date with Don the night of the event and she still feels that hanging out with Ted and Barney poses a roadblock to her budding relationship with Don.
To Read More Click Here.