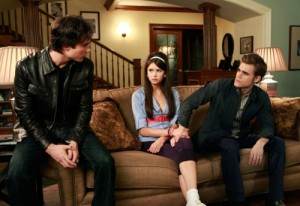 Ever had the taste slapped out of your mouth? Well, then you didn't watch The Vampire Diaries tonight...
Almost each segment of tonight's episode had a big reveal that took the story into a whole new chapter. There is new/old blood in town and they have an agenda. We also got a major follow-up to the "Elena's Adopted" storyline and more info on Alaric's wife Isobel. There is so much stuff to share that I feel like I am being stingy by procrastinating and not going on with this recap... Please forgive me. Let's move on...
Setting Them Up
Elena and Stefan discuss who the hell could be the hooded vampire that is stalking the town now. Elena is spooked and Stefan doesn't waste anytime arming Elena with enough vervain that should take care of her and all her friends. He even gives her jewelry to place the vervain in and a kiss to boot. Downstairs the doorbell rings and Jeremy, who is working on a drawing of a vampire answers it. It's the most unusual pizza delivery boy that I have ever seen. Elena comes downstairs and pays the guy after Jeremy invites him in! Why does this matter? Because pizza delivery boy is our hooded vampire (Dillon Casey).
To Read More Click Here