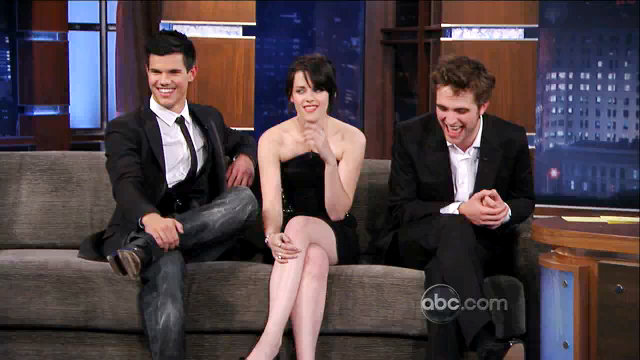 "Jimmy Kimmel Live!" gets the privilege of being the only talk show to have all three principal cast of "The Twilight Saga's New Moon" on the same seat. Robert Pattinson, Kristen Stewart and Taylor Lautner have taped an appearance on Jimmy Kimmel's talk show last week and the segment will be aired on Friday, November 20.
During the interview, Robert couldn't stop laughing and Taylor explained to Jimmy his bulking up regime. The host asked Taylor about the transformation from "Twilight" to "New Moon" and the actor said that the hardest part was actually not the work out but the eating. As he had said a couple of times, he had to "put something" in his mouth every two hours in order to gain mass.
Then there came the question about off-screen romance. "I know you guys don't like to talk about personal relationships and all that stuffs," Jimmy said before turning to Taylor and asked, "So Taylor, what's going on with these two?" Taylor answered amid laughter, "I wish I could tell you".
Death Cab for Cutie will perform the soundtrack to the film, "Meet Me on the Equinox".
"New Moon" opens wide in U.S. theaters on November 20. The faces of "New Moon" cast have been and will appear in several talk shows during the days leading to the premiere. Dakota Fanning sat down on "The Ellen DeGeneres Show" on Monday. Robert visited "Late Show with David Letterman" on Wednesday while Kristen went to "Late Night with Jimmy Fallon" on the same night.