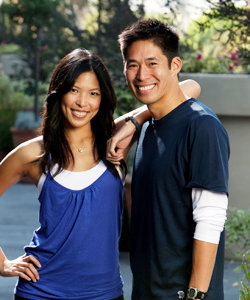 The 50th state may be the last stop on the 14th season finale of The Amazing Race but the suspense is definitely non-stop. Will the race finally have an all-female team as its winner? Or will it be the first deaf competitor? When the remaining three teams work simultaneously on the final task it becomes memory over matter to determine a champion. The tension is so high you'll find yourself saying, "Maui wowie!" Read on to learn who won the million-dollar prize.
Heading Home
The teams (finally) leave China and head back to the United States. Tammy and Victor are the first to take off for Maui, Hawaii. Even with close to a five-hour lead over last week's third-place team Jaime and Cara, they have to wait until 6 am with the rest to make a ticket reservation. It's a 5000-mile, 18-hour trip to their final destination. (Unlike in the movies, no one is cheating death, so no need to worry.) With the final leg of the race underway, the playing field is leveled.
Upon arrival, everyone headed to the beach and changed into swimwear. The first task - no Detour this week - is to observe and then repeat the preparation of a pig for a Hawaiian luau. I had to agree with Victor's remark that "this is really nasty." After slapping some oily goo and island seasonings on it, they were to carry the 145-pound pig 200 yards to the luau and then properly cover it. Margie and Luke were the third team to show up but passed the others with pig in tow. Mother seemed just as determined as son. The other women had trouble holding onto the heavy hog. Jaime, trying to encourage a stumbling Cara, calls Tammy a weakling. It doesn't help. She says the episode title to Cara: "Please. Pick up the pig! ... This is how you lose a million dollars." At this point you can't argue with that.
Margie and Luke get the thumbs up and are first to go down the beach and take a one-mile ride on a "watercraft" (presumably not a WaveRunner) to a buoy field and find their next clue among 100 buoys. Mean mama Margie is driving but has had enough of Luke constantly calling out "Mom!" (It did seem excessive this week.) She tells him to "just relax!" They are again the first to finish and to head over to the Surfboard Fence.
To Read More Click Here.