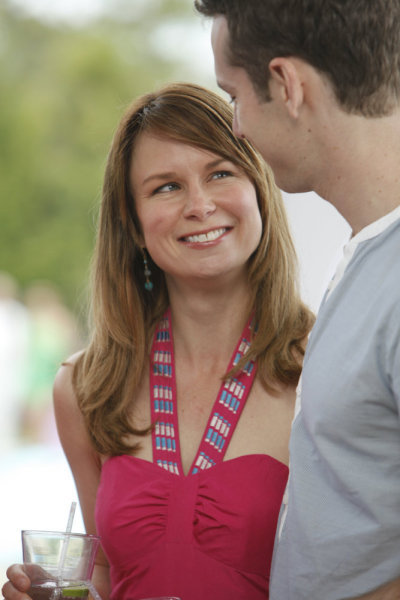 Ah, the heart. It's a life-giving organ that means well, and can bring two people closer together. But a wounded heart can also lash out at old hurts and get you into trouble. And it was all of these cases in the second episode of the season.
And I'm happy to report that this episode seemed to gel a lot better than the season 2 premiere: the rapport between Hank and Evan was strong and snappy, Christine Ebersole made a welcome return as the wealthy and surgically addicted Ms. Newberg, and we got a special treat of a guest star in '24' fixture Mary Lynn Rajskub.
Rajskub played Blake, Ms. Newberg's stepdaughter who gave up meat and dropped out of culinary school in Lyon to live the life of an ascetic in San Francisco after falling for a hot young yogi named Jamie. Trouble was, she was also falling in all the wrong places -- first at Ms. Newberg's shindig, and then while attempting some balancing moves. While Blake tried to shoo away the bobbles with wryly funny excuses like "I'm suffering from a condition known as 'complete lack of coordination,' and I've had it since birth," both Hank and Divya had their doubts, and insisted that Blake be strapped to a very uncool heart monitor.
Turned out it wasn't her age or her lack of bendiness that was causing her palpitations: it was her heart. Jamie turned out to be as awful as that gluten-free casserole Blake was trying to make, because he didn't have the soy balls to break up with her in person. Instead, holistic boy did it via (gasp!) text message and tried to cloak it in some ying-yang nonsense. (No one treats Chloe that way and gets away with it!) Just goes to show that one should never give up baked goods for anyone.
To Read More Click Here.