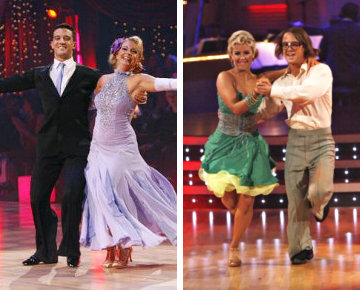 Not one, but two stars hit the road on Dancing with the Stars in the season's first double-elimination. The couple with the lowest combined score and votes was automatically kicked to the curb, but the second- and third-from-the-bottom couples faced off in the knockout round, where the judges' scores decided the second bootee. Which two couples left the ballroom? Find out below!
After a performance from Taylor Swift (was that singing or whispering?), we get our usual recap. Kelly admits expected praise from the judges. Louie explains he missed Chelsie's fingers and thus dropped her. Mark had a blast despite his mess-ups, er, "improvisations." Aaron calls Len a father figure and shares that he hasn't spoken to his own pops in a few years. Awk. Ward. If you don't know the illustrious Carter family history, please take a weekend to brush up. I highly recommend Jane Carter's book about Nick, followed by a House of Carters marathon. Back on track, Joanna thinks Monday was her night, and we get another look at her and Derek's head-in-the-crotch move. Lovely.
There will be no encore this week because we must get down to business. Everyone's in their knockout dance gear. Each couple picked their dance style, which must be new, and their own song.
First four safe couples:
Joanna and Krupa
Mark and Lacey
Donny and Kym
Aaron and Karina
So four of the top five couples are through. Way to make it dramatic, guys. Still, this is reassuring for Aaron after two weeks in the bottom two.
Following a Tiempo Libre performance, it's time for Designing with the Stars. Yup, that's right. The celebs will yet again craft costumes. The only thing I remember from this experiment last season was that Lawrence Taylor completely covered up Edyta Sliwinska for, like, the first time ever on the show. No one wants anyone clothed here though. Aaron wants to show off Karina's body. Joanna wants to know how many rhinestones can go on a Speedo. Mark hopes to dress Lacey for a Brazilian beach. "What's chiffon?" Louie asks.
Next two safe couples:
Mya and Dmitry
Kelly and Louis (Happy 25th, Kel!)
That leaves Louie and Chelsie, Michael and Anna, and Melissa and Mark in the bottom three, which is not really surprising. They're the lowest three scorers and Melissa has underwhelmed since her breakout Charleston. To kill more time, Taylor Swift returns to perform "Love Story" with Maks, Edyta, Jonathan, Anna, Tony and Cheryl in tow. The number was choreographed by lovebirds Jonathan and Anna, as Maks revealed in his TVGuide.com blog. It's actually so enrapturing that I forget for a few seconds that Taylor is making my ears bleed.
Next, we get tips on how to achieve the perfect 10 from some iconic perfect 10-ers: Greg Louganis, Bill Walton, who had two perfect seasons with the UCLA Bruins, and - and - Nadia Comaneci! My life hero! No one does gymnastics like her anymore - so fluid and free. She totally needs to come on Dancing and bring her hubby, Bart Conner, with her. They'll play out the husband vs. wife story line Ty Murray and Jewel never did. Hey, a girl can dream.
First couple eliminated:
Melissa and Mark
M&M get a standing ovation. She wanted to make it one more week because her hubby and her boys were coming to visit next week, but now she can just go back to them. Mark looks majorly PO'd and says they'll always have their Charleston. Clearly, he can only win with Olympic gold medalists and doesn't know what to do with us non-athletes. Too bad he didn't get Natalie this season.
Knockout Dances
Michael Irvin and Anna Demidova: Samba
Michael nearly misses grabbing Anna's hand in the beginning. He's shimmying his booty off and is trying to work those hips, but his movement is still lacking overall. Of course, he's got the charm to sell the whole thing. Len loves that he has come alive these past few weeks. Bruno thinks it was a crowd-pleaser. Carrie Ann thinks he did well on the performance aspect, but not the technique.
Louie Vito and Chelsie Hightower: Jive
Louie's got the energy down and is doing well to keep up with the quick choreography until the end when he slows up. Technique-wise, the jive is probably the riskier of the two dances to choose with so many kicks and flicks. He's a little heavy on a few steps, but he pulled off more moves than Michael did. On the other hand, Michael's got the performance edge. Bruno is impressed by the content he put in. Carrie Ann says she expected more in both dances from Louie and Michael. Len thinks it was sharp and clean, but agrees with Carrie Ann; he wanted more from Louie and Michael. Uh, can you really do that much in 30 seconds?
Verdict:
Bruno wants to save Louie and Chelsie.
Len wants to save Michael and Anna.
Carrie Ann wants to save Michael and Anna.
That means our little snowboarder is gone. Tear. Louie flips onto the floor and says he had a great time and is disappointed he won't be able to impress all three judges with his killer waltz next week. Chelsie says she's proud and that they had fun.
So the judges buy Michael another week, but I can't imagine him surviving next week's double-elimination. It'll be interesting to see who else will leave next week. Also against Michael? Now that he's played his knockout dance card, I'm guessing he and Anna will have to create a new routine, while everyone else will probably use the same routines they prepared this week for next week. Great planning, show!