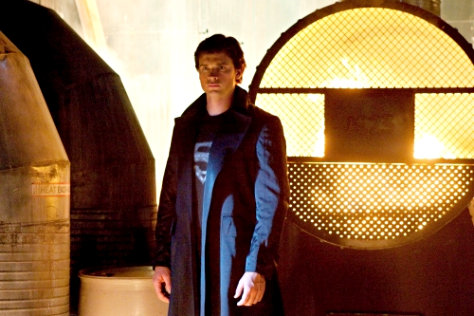 "Smallville" will take a two-month break starting this week and when it returns on January 22, it will bring along the Justice Society of America (JSA). The episode called "Disciple" sees Clark getting the help he needs much to save the world from the grasp of General Zod.
JSA is comprised of several superheroes such as Hawkman, Stargirl, Doctor Fate, Atom and Spectre but only three out of them have had their actors announced. Brent Stait is playing Dr. Fate, while Britt Irvin is in the shoes of Stargirl. Meanwhile, the actor to play Hawkman, whose first look has been shared, will be Michael Shanks.
Hawkman in particular won't get along with Green Arrow as Justin Hartley put it, "They have completely different views on just about everything you can imagine. Hawkman has this sort of antiquated, conservative point of view, while Oliver is the 'liberal bleeding heart'. Together, they are a match made in hell."
Also, the bad guy version of Green Arrow will be introduced in "Disciple". Steve Bacic plays Dark Archer who, in the comic, is actually the former mentor of Green Arrow. Saying that it would be "interesting" encounter between the two, Hartley said Bacic is "a really good-looking guy, but when they did him up with the beard and this black costume, he becomes a gnarly, menacing dude."
On another "Smallville" news, EW has reported that Brian Austin Green will reprise his role as Metallo who appeared in the first two episodes of the season. Although he died in the second episode after accidentally ripping off his artificial heart, Metallo will be back in episode 18 of the season.