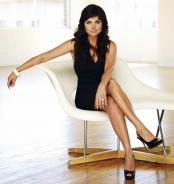 Elizabeth enters the FBI agency with her distraught friend, Dana, whose husband just got back from Iraq. He is wanted for stealing gold coins in Iraq. Before the police take him in, he informs Peter and Neal that he knows that a man named Patrick Ames framed him.
While brainstorming, Neal realizes that all the fingerprints are of the left hand only, that Dana's husband must have been drinking with someone and they swiped his prints. Peter goes home to question Dana about if her husband went to a bar or something with anyone recently. She tells Peter that he did go out for drinks with a woman reporter.
The next day Peter and Neal go to the station to question Alicia, the reporter. As Peter patiently waits for her to meet with him, Neal uses his wits and charm to get in and follow her. He sees her put something in a desk and lock it before going in to meet with Peter. Neal picks the lock and makes a copy of the evidence. It is a receipt for a sale at a local pawn shop.
To Read More Click Here.