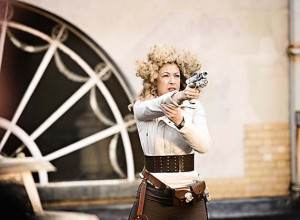 Did you watch Saturday's Doctor Who episode? It was an absolutely fantastic episode, although it ended with all of our main characters in dire straits. Amy Pond had just been shot by a plastic incarnation of Rory (and apparently died), River Song was trapped in the TARDIS while it exploded, and the Doctor was locked into a giant box (the Pandorica) by an alliance of his greatest enemies, who believed that he was responsible for the cracks in the universe. Turns out, he wasn't. They found that out too late as the galaxies around the earth all exploded, leaving the earth alone in silence.
Of course, knowing Doctor Who that isn't the end. It's very, very far from the end - there's still another episode for everything to be resolved! Cue "The Big Bang," the second part of the two-episode serial. Out of the three big questions above (Will Amy survive? Did River survive? How will the Doctor get out?), I have three answers for you.
To Read More Click Here.