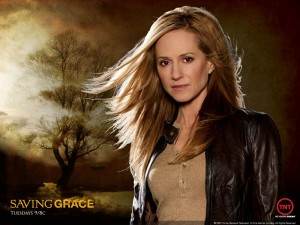 After three years on the air, TNT's Saving Grace ended last night in an episode that I'd define as mostly good but open to a bit of interpretation from the fans. Saving Grace was a complicated television drama that followed Grace Hanadarko, a police officer in Oklahoma City, who had a dark side that included heavy drinking, smoking, and plenty of recreational sex. But despite these and other flaws the character was well loved and had a good heart. The series opened three years ago with last-chance angel Earl (portrayed flawlessly by Leon Rippy) asking Grace if she was ready to give her life to God. Last night's finale came full circle and answered that question. (Warning - spoilers on the finale after this point. Read with caution).
In the past, the series has typically had very strong episodes, and their timing throughout each season has been perfect. However, during this final season, specifically these last three episodes, it seemed rushed and a bit disjointed. For me, it impacts the finale a bit, and lowers the high standard the show has set before this point.
To Read More Click Here.