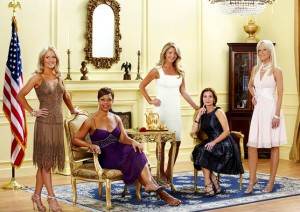 Last week, Bravo finally revealed the cast of the highly anticipated new entry in their Real Housewives franchise and since We are going to start covering the series this summer, it's about time that you guys meet the first ladies of Capital Hill. But first, here is some background drama on the casting of the show to whet the appetite for what's to come.
The drama started back in May of last year when Bravo announced that the Real Housewives franchise was heading to D.C. The local and top political papers in the nation all initiated in the guessing game on which of the top movers and shakers in D.C. would have their lives documented for all to see. Some reports got one or two of the cast members correct, while others were nowhere near accurate in their assumptions. But one name stuck out amongst a lot of the trades and that name is none other than Michaele Salahi aka the infamous "Gatecrasher", who along with her husband Tareq, infiltrated an event that President Obama and Vice-President Biden were attending. The incident caused a national uproar, mainly due to how easily and effortlessly the Salahis' maneuvered their way past what is supposed to be the most restricted security in the world. Then reports were released conveying that the incident was filmed for RHOWDC and mouths really started to wag. Bottom line? The show has gained more controversy in pre-production than it probably will when it airs.
To Read More Click Here.