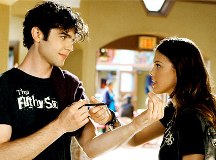 10 Things I Hate About You (TV) kicked off Tuesday night on ABC Family and received generally favorable reviews from various critics. The high school comedy adapted from the 1999 Heath Ledger-Julia Stiles big-screen modernization of Shakespeare's "The Taming of the Shrew" has made high school angst quite entertaining. And while there are only a few likable things, there really isn't much to hate about the show. If you liked the first episode, then you're probably wondering what's in store for the Stratford sisters, Bianca (Meaghan Jette Martin) and Kat (Lindsey Shaw), and the rest of the gang.
Warning: Spoilers ahead!!!
According to show runner Carter Covington, there will very likely be kissing before the end of the season. Covington gives emphasis on episode 7, which is entitled "Light My Fire," as it features Patrick's first visit to his leading lady Kat Stratford's house.
"[Their relationship will] move away from the comedy, more towards the relationship side of things," Shaw told Eonline.com.
Ethan Peck's Patrick Verona, on the other hand, doesn't say much for the first three episodes but does start talking eventually ---specifically in episode 4.
"I kept thinking of Jordan Catalano from My So-Called Life," said Covington of Patrick's part, which involve a lot of broody skulking and locker-leaning.
As for Martin's Bianca, she "definitely doesn't have her priorities straight, but what makes her fun and likable and relatable is [that] she's not quite sure where she's going in life."
One more thing fans can look forward to on 10 Things I Hate About You is some girl-on-girl kissing in episode 6. However, it doesn't happen the way viewers would expect.
"Originally, we had [spoiler deleted for your protection] selling her panties to Japan" for that plotline," he said.
Meanwhile, Peck asserts that the show is quite different to the 1999 film.
"The show is different from the film. We're trying to reimagine the characters and the ideas and the situations."