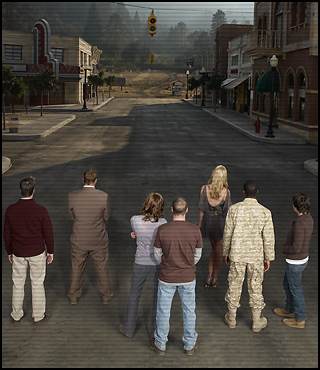 Persons Unknown loves its camerawork, and the opening of this episode is no exception. It's all fuzzy and surreal as Janet and her daughter are at Janet's funeral? That's one wicked nightmare, and if you didn't get the hint, it's now pouring down rain outside the town. She's sufficiently freaked out.
The next morning, our cheerful stalker Ulrich is up and about early. He's still really happy to see Janet, so of course this is when Joe steps off the elevator and sees Janet, Ulrich and Erika. His 'what the hell' expression is priceless. Joe and Erika finally have something to agree on: Ulrich needs to go. Meanwhile, Charlie and Blackham are still hanging out, with Charlie getting a shave from the new hotel manager, when McNair walks in and wisely points out that maybe it's not a good idea to let Ulrich be holding a razor anywhere near anyone. It's kind of annoying how sometimes, some of these people forget that they're in captivity. Granted, we don't know exactly how long they've been there by now, but still this is a guy who works for the people holding you here, so maybe don't give him a sharp object and let him near your throat?
To Read More Click Here.