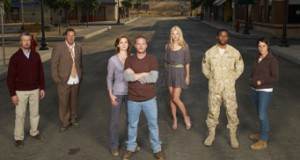 Did you miss last week's Persons Unknown? Well, I have a helping of recap here for you.
This week's episode begins with a naked and bald Joe lying in the middle of the town square surrounded by poor special effects….er…blowing leaves. Janet comes out of the hotel and ushers him inside. Joe is bewildered and cold, so Charlie gives him a blanket. McNair enters the hotel lobby from upstairs and demands answers. Janet takes the lead on asking the questions. "Where were you?" she asks. "Outside in the cold," Joe sincerely responds. "Did the Program do this to you?" Janet inquires. "How do you know about the Program?!" Joe fires back. The Captives respond that Joe told them about the Program. Now freaking out a bit, Joe says that he doesn't remember any of them, and leaves the lobby to put on some clothes. Later, he enters the Shanghai Palace, asking for #47, the Okra Special. When the waiter doesn't respond, Joe marches into the kitchen, again asking for the special. He moves to the freezer and tries to enter a code on the thermostat, but nothing happens. The passage to the Observation Room is sealed. He asks the cooks where Tom is, but one oly gestures toward a small shrine built to the dead restaurant host. Picking up that his best friend is dead, Joe moves into the dining room and stands on a table, and stares directly into one of the security camera domes.
To Read More Click Here.