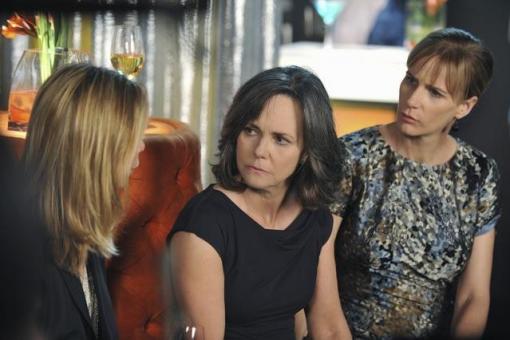 The Brothers & Sisters season premiere was not great. The time jump felt forced on one hand, underutilized on the other. Fortunately, last night's episode made up for it somewhat.
"Brief Encounter" was more where we envisioned the family after the flash forward. Most notably, Kitty's thinking about life after Robert (a process which apparently she just began).
Sarah is dealing with Luc's sucess and Paige's attitude. Kevin longs to tap into his paternal side again. Justin is trying, in vain, to save his marriage to Rebecca. And as for Nora?
Even though the lesbian suspicions were a bit cliched and drawn-out, at least they brought out the bossy, hyper-involved side of the matriarch we've grown accustomed to.
Of course, Kitty decided to physically tail her mom and of course, Nora explained her new florist gig as such "You have needs. So do I! Sometimes you push me too hard..."
Cryptic language that could possibly be interpreted sexually? Sneaking out of bed at 5? Totally a lesbian. They had us fooled! Fortunately, Kitty's sibs were less convinced.
To Read More Click Here.