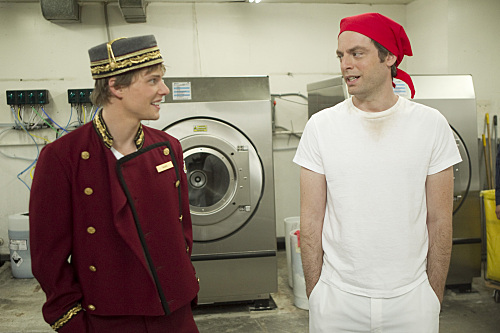 The older Botwins/Newmans find scab work at a hotel in the 'A Yippity Sippity' episode of WEEDS, leaving Shane to watch over Stevie. Nancy becomes a maid, Silas a bellhop, and Andy a dishwasher, but Nancy can't quit the drug trade, so she finds an in through a medical marijuana office. Before you can even say Yippity Sippity, she's mixing up her first batch of hash in the hotel`s laundry room.
Nancy's The Newmans will be different-normal" vow lasted about as long as I expected, but hey, hash is different. Nancy, Silas, and Shane have the best exchange of the night when Silas asks, What if you had gotten a real job when Dad died and we could have skipped all this? Nancy's rambling explanation of how they would have ended up in the same spot is both hilarious and remarkably logical. We then go over to the dark (er) side when Silas asks Shane if he would have killed someone if Nancy had worked at the Gap instead of selling drugs. Shane's nonchalant shrug and 'Probably is creepy perfection. The kid's a full-on sociopath now.
Stevie's stroller breaks and Shane tries to buy one but with his $100 he could only buy a cup holder' the Yippity Sippity. Instead, he finds one to steal, and no, Silas, it's not a good idea to leave Pebbles with Bam Bam.
To Read More Click Here.