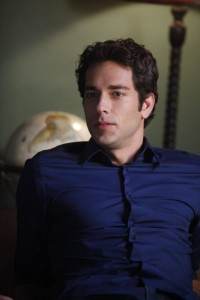 If you missed last week's headshrinking episode, "Chuck vs. the Tooth," read a recap here.
Tonight's episode of Chuck, "Chuck vs. the Living Dead," opens on a cabin. Papa Bartowski is sharpening an ax when there is a knock on the door. He retrieves the daily newspaper and turns to the Classified section. He sees an ad for a 1978 Chevelle and immediately starts decoding it. It is a message from Ellie who is asking to see him as soon as possible. Back in Burbank, Ellie, too, is reading the Classifieds and deciphering her own ad - a response from her father. Ellie, seeing that her father is going to come visit soon, calls Justin to give him the news. Meanwhile, Chuck i son the phone with Morgan, telling his buddy that he had another dream about Shaw. Hearing only Chuck's side of the conversation, Morgan tells Chuck that he needs to tell Sarah, because honesty is important in a relationship. Chuck repeats this adage about relationships when Sarah enters, wondering whose relationship Chuck is talking about. Morgan and Anna, he assures her. But Morgan just flat-out turned Anna down just the other day. Chuck stammers, and eventually runs off, leaving Sarah a bit bewildered.
To Read More Click Here.