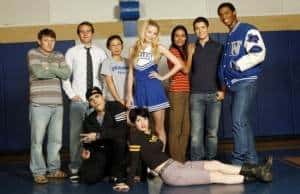 My Generation premieres this Thursday @8/7c on ABC.
Back in May when the promo for ABC's My Generation was released to the press, I felt a wave of nostalgia wash over me in an instant, as if the show was speaking to me personally about my life post high school graduation. In short, I was already won over. With my first high school class reunion coming up next year, I felt that My Generation was a perfect mirror for me to reflect on the ten years that had passed by revisiting the times through the eyes of these nine characters. Well, I was wrong (but not in a bad way), because My Generation follows the Class of 2000, I graduated in 2001. Oops.
That date mixup didn't deter my enjoyment, however, of the pilot for the ABC dramedy/mockumentary, which centers around nine high school archetypes (the jock, the beauty queen, the nerd, the wallflower, etc) as their lives are documented their senior year by a film crew who revisits them ten years later. Needless to say, the moniker the more things change, the more they stay the same applies, but this, unfortunately, is where the challenge lies.
To Read More Click Here.