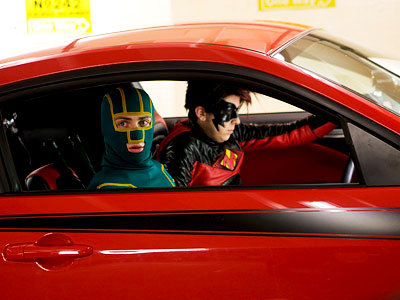 Director Matthew Vaughn presented clips from his upcoming action comedy "Kick-Ass" during this year's San Diego Comic Con, and all of those snippets have appeared online in bootleg format. Varied in length, the footage serve as an introduction to Aaron Johnson's Dave Lizewski aka Kick-Ass, Chloe Moretz's Mindy Macready aka Hit Girl and Nicolas Cage's Damon Macready aka Big Daddy.
The first one highlights on Dave's attempt to be a hero which turns into disaster. Coming across two thugs who try to force open a car door, Dave sees it to be a chance to shine, instead he gets stabbed before being hit by an oncoming car. Another one takes a look at the time Damon trains Mindy to be prepared with the impact of a gunshot by firing at her while she's wearing a bullet-proof vest.
The third one is the opening clip shown at the convention. Showing a falcon-themed superhero standing on the edge of Empire State Building's roof, the clip contains Dave's opening monologue, saying "I always wondered why nobody did it before me...We all planned to be a superhero..." The last snippet sees Kick-Ass being saved by Hit Girl during one of his actions.
From Matthew Vaughn, the man behind the lens of "Stardust", "Kick-Ass" is adapted from a comic book series by John Romita, Jr. and Mark Millar. It tells the story of Dave Lizewski, an ordinary teenage boy who decides to be a real life hero donning a superhero suit in his action. The action fantasy film is supported by Lyndsy Fonseca and Christopher Mintz-Plasse. U.S. release date for the movie is yet to be set.