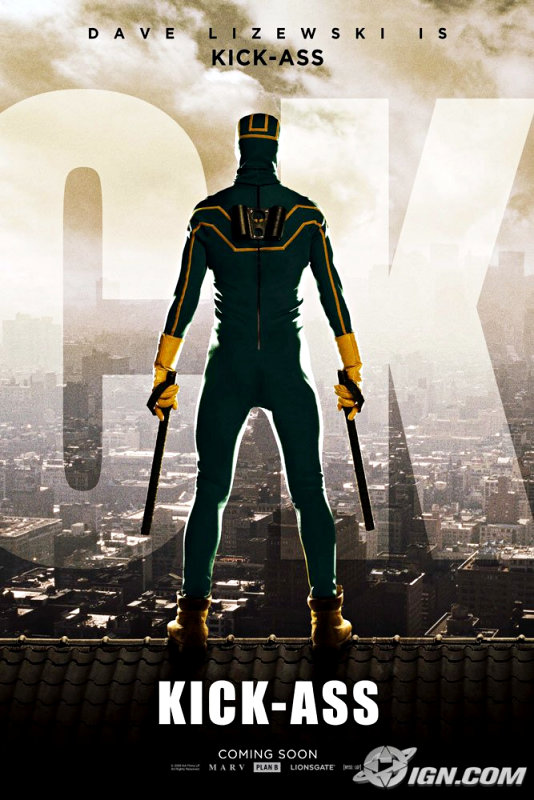 Four of "Kick-Ass" major characters have become the center of attention in a set of newly-released character posters. Debuted by IGN, each of the one-sheets focuses individually on Kick-Ass, Hit-Girl, Big Daddy and Red Mist, the alter egos of Dave Lizewski, Mindy Macready, Damon Macready and Chris D'Amico respectively.
All four posters capture the characters portrayed by Aaron Johnson, Chloe Moretz, Nicolas Cage and Christopher Mintz-Plasse from their behind. If combined together in the right order, starting with Red Mist, Kick-Ass, Hit-Girl and Big Daddy, the one-sheets form the title of the movie.
Adapted from a comic book series by Mark Millar and John Romita Jr., "Kick-Ass" promises to offer a twisted, funny, high-octane adventure from director Matthew Vaughn. Set for U.S. release on April 16, 2010, it follows the story of average teenager Dave Lizewski who decides to take his comic-book obsession as inspiration to become a real-life superhero.
Choosing the name of Kick-Ass as his alias, he assembles a suit and mask to wear, and gets to work fighting crime. But, one problem stands in his way. He has absolutely no superpowers. Still, his life is forever changed as he inspires a subculture of copy cats, is hunted by assorted violent and unpleasant characters, and meets up with a pair of crazed vigilantes.