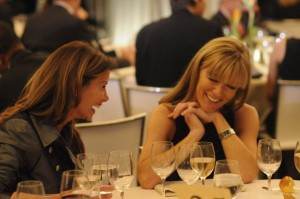 Tonight's Real Housewives of D.C.'s theme was all about home, whether it was looking for one in a literal sense, cleansing your home, protecting your home (or your closet in Mary's case), or yearning for home. Either way, the drama and gossip still flood more fluidly than the wine at the Oasis Winery.
Home for Michale
Michaele and Tareq are looking for a new house and enlisted Stacie, the best in the D.C. real estate biz, for help. From gate, Stacie wants to know where the money is coming from to support the Salahis price range, because she knows it sure as hell isn't coming from the winery, which is defunct. Tareq claims that they will fund the house through the business, but which one that could be is beyond me, because all of them are not bringing in money. Ask the people they owe. They will tell you.
To Read More Click Here.