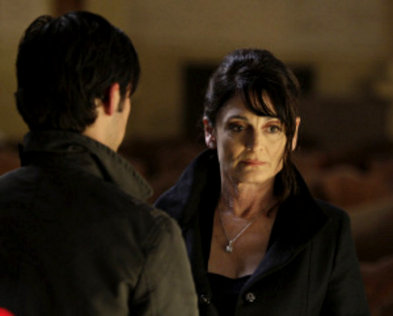 "Heroes" keep it short and cryptic in the new promo for its April 6 episode, quoting "The grandmother of all mysteries is finally uncovered." In the episode called "Turn and Face the Strange", Angela shows Peter and Claire where it all begins and reveals the demon in her past.
As Danko (guest star Zeljko Ivanek) spearheads the government operation, someone close to him is put in the line of fire. HRG's life continues to spiral out of control and his marriage is dangerously close to the breaking point. Meanwhile, Hiro and Ando continue their road trip with a special delivery for Matt Parkman. Hiro and Ando are in fact traveling with a baby who belongs to Matt.
Masi Oka, the actor who plays Hiro said that the baby will provide a dilemma for Matt. "You think you have your life sorted out, and you're ready to charge in and live your life for good, but now you have something to possibly protect," Oka told TV Guide. "Once you become a father, it definitely changes your mindset and what you're willing to do. But at the same time, what does it mean to protect your child? Does it mean risking your life to make a better world, or doing nothing and staying at home?"
To Watch The Sneak Peek Click Here.